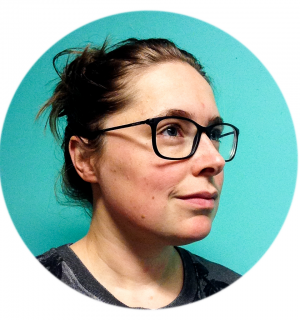 Renske de Kinkelder werkt dagelijks aan het tot leven brengen van haar eigen fantasiewereld, vol personages met een uniek karakter. Ze werkt voornamelijk met inkt en aquarel, maar ook digitaal in Photoshop en Procreate.
Ze tekent graag dieren en mensen (en andere wezens) en de interactie tussen hen. Ze belicht de humor in alledaagse situaties.
Ze illustreert o.a. kinderboeken, tijdschriften en educatief materiaal voor opdrachtgevers zoals o.a. Malmberg en Clavis.
Als ze niet bezig is met een opdracht dan werkt ze aan haar eigen projecten waarvan ze prints en andere producten verkoopt.
Naast Illustreren geeft ze ook les in Adobe Illustrator CC.
Ze woont met haar vriend en rap groeiende huisdierverzameling (een hond, baardagaam, schildpad en drie kippen) in Velp, dichtbij Arnhem.
Haar portfolio wordt constant geüpdate en ze is beschikbaar voor opdrachten. Bij interesse kun je contact opnemen door een mailtje te sturen naar renske@renskedekinkelder.com
Of je kunt haar vinden op Instagram: @renskedekinkelder
Renske de Kinkelder spents her days creating her own imaginary world full of quirky characters. She works with watercolour and ink, but also digitally in Photoshop en Procreate.
She loves drawing animals, humans (and other beings) and the interaction between them. Highlighting the humour in ordinary things.
She illustrates children's books and educational material for clients including: Uitgeverij Malmberg and Clavis books.
When she's not doing clientwork she works on her own projects which are available as artprints and on other products.
Besides illustrating she teaches Adobe Illustrator CC.
She lives with her boyfriend and rapidly expanding petcollection (including a dog, a bearded dragon, a tortoise and three chickens) in Velp, a town close to Arnhem in the Netherlands.
She is constantly updating her portfolio and is available for commissions. If you see anything you like please get in touch!
Send an e-mail to renske@renskedekinkelder.com
or follow her on Instagram: @renskedekinkelder